New Honu, Hawaiian Turtle, with white backing and same sfumato blowing technique . 18" x 23" for sale
New Fused Glass with blown glass recycled bits. Honu, Hawaiian Turtle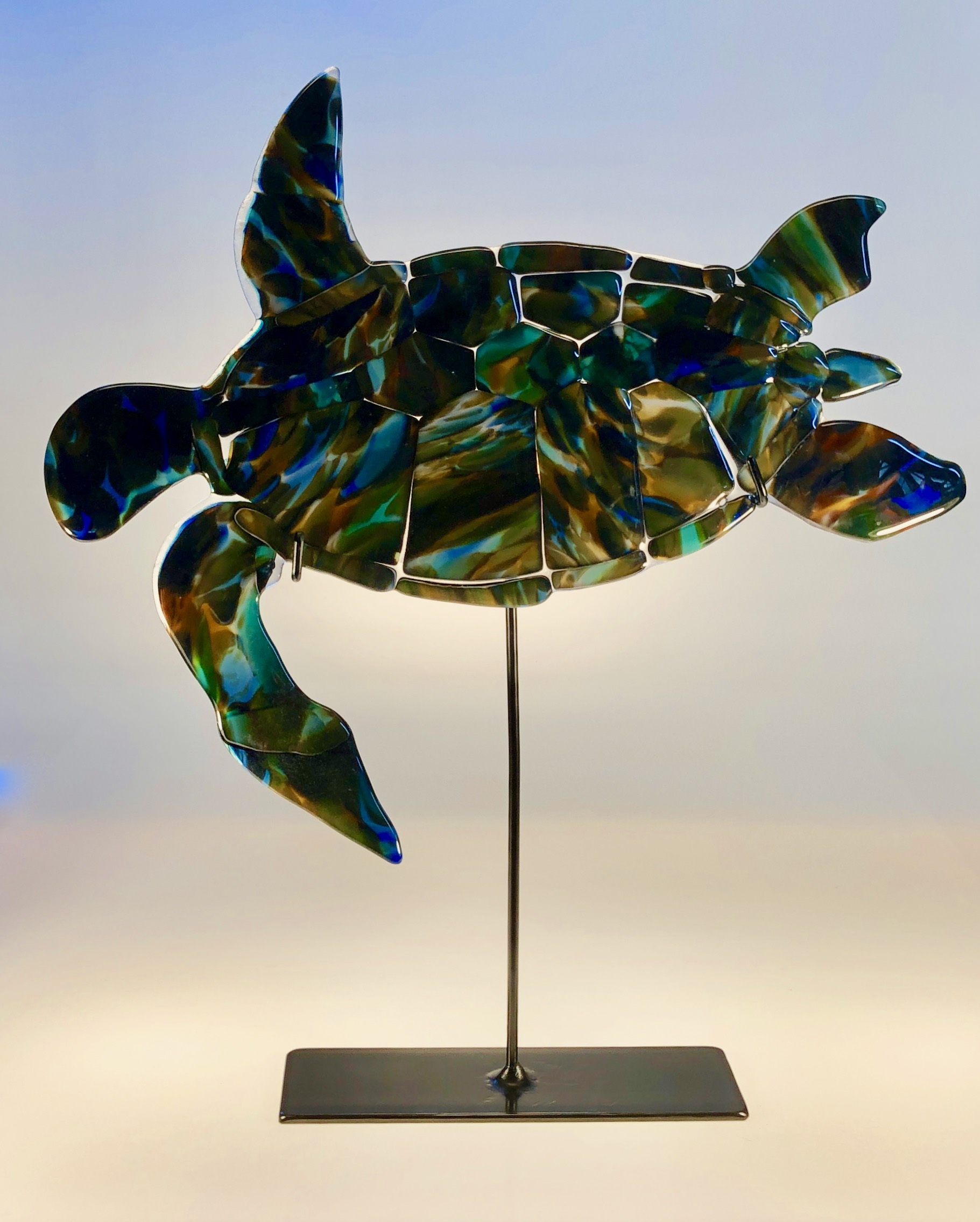 Fused glass and blown glass.
New wall splash just sold. Finials were chrome plated and made a nice addition to the piece .
New Jellyfish with skirt and tentacles approx. 11" x 26" LEDs dimmable 110V
NEW FULL GLOBE PENDANT DESIGN
New Ruby Jellyfish with skirt and tentacles.
New custom fused glass, blown glass and metal chandelier installed in New Hampshire. 24" x 12" flowers and vines.
Jeff Ruby Steakhouse in Columbus, Ohio. Jellyfish over the Raw Bar.
A Recent Group of Art Nouveau Style Blue Luster Table Lamps Hand decorated blown glass . These are for sale and on the shopping cart.
Most Recent Jellyfish additions, which are also on the shopping cart.
Hawaiian Contemporary 2018 group show in Makawao, Hi.
A few new Jelly fish pendant lamps going to Jeff Ruby Restaurants, in Ohio.
New Aquarium Ruffle Serving bowl 26" x 17" x 6" Blown glass upcycled fused and then slumped into a custom form. signed and dated /for sale.
New Liagora sculpture celebrating the native seaweeds of Maui.
Cathedral Rondels in this Wall Splash.
Three Light Turquoise Pendants
TaTa chandelier with LED illumination2017
New TATA Pele chandelier in Kaanapali, Maui. Custom for Client
Experimental fusing of the rondels .
Recent Fusing and Slumping Blown and hand rolled Glass
ALL NEW RECENT CREATIONS
This is one of my latest designs, the Breadfruit Dome 6 Light Chandelier. 40" x 24" tall, hand forged iron with epoxy patina, fused blown glass elements in a 22" dome, and 6 blown and decorated in Gold Luster optic shades. This one is currently for sale. inquire. It will be on display at the Maui Crafts Guild, Paia , Maui, Hawaii. rick strini
These are blown glass rondels, which are cut and placed with hand rolled sheet glass then fused in to a single sheet. Each sheet was set into these hand made doors 3" thick by 3'x 8' tall solid Koa wood. This is the Master Bath of the private residence in Wailea, Maui, Hawaii. These doors are all pocket doors. Collaboration with Kristin Holmes of Swan Interiors, Maui.
This recent Rondel Wall Splash, 24" x 68" two sided collaboration with Kristin Holmes of Swan Interiors, was installed in this Pinnacle private residence, Kaanapali, Maui. 2016
Ono Migration Bowl32" diameter x 6" fused blown work and hand rolled glass.
Opihi Dome with matching wall sconces6 x 16" and the dome is 23" x 5"
Sfumato Dome 23" x 5" combination of blown glass and hand rolled.
Mexican Papaya 23" platter , Adventures in Paradise, fused and slumped blown treasures from Strini art Glass.
Left, Ono Wall Platter 30" diameter ribbon fused panel Ono platter wall art24" diameter
Double Niche, above, Gold Luster Rondels with Amber Lip. Kihei Hi. 2015 artist rick strini
All NEW Jelly fish with different styles. Single and Multiple Tentacles. 11" x 24" left and the others are 24-30" overall height.